SEMEN SALES:
Semen only sold in special auctions throughout the year. Contact us to see when the next opportunity to purchase semen.

OWNED BY:
Colyer Herefords - ID
King Herefords - NM
Barber Ranch - TX
Express Ranches - OK
Dry Creek Farm - AL


Loewen Genesis G16 ET AHA Reg#: 43987463
KCF BENNETT ENCORE Z311 ET
bW 91H 100W RITA 79Z ET
MSU TCF REVOLUTION 4R
PCR JACKLYN NICHOLE 344N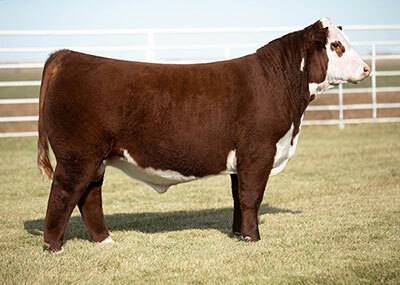 American Hereford Association Data & EPD's
:
CLICK HERE
Homozygous Polled!
This Endure son out of a Loewen Revolution cow has outstanding EPD's and a tremendous phenotype. He is a 2.9 to 131 on his BW to YW spread and a 128 on CHB. We believe this bull could be a breed changer. To top it off this performance bull is homozygous polled and goggle eyed with a large scrotal.
The first semen will be available at the Mile High Eve sale in Denver, CO on Jan. 16, 2020.